Professor Dietmar Daichendt M.D., Ph.D., M.D.O. (DGCO)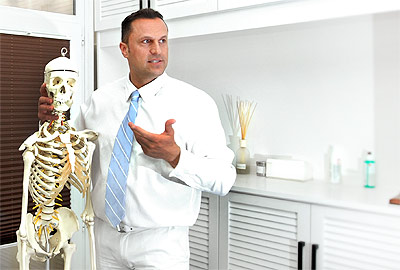 My comprehensive medical training covers a very broad range of medical services for the benefit of you, my patient who gave his trust to me. As many health cases can affect several organs and even develop symptoms in several body systems, the attention of a doctor with a comprehensive knowledge in various medical specialities is required.
A doctor can properly handle your legitimate claim of a comprehensive examination only when he is able to access a broad interdisciplinary range of knowledge.
In this respect, I am a general practitioner with heart and soul. Because of my varied comprehensive education and qualifications, I am versatile in diagnostics and therapeutics and this will save you from irritating and time-consuming transfers.
The most modern and competent diagnostics and therapies are guaranteed, in any case, by in-house technical equipment at clinic level (except X-ray examination, computer tomography, magnetic resonance). Nevertheless cooperation with specialised colleagues is indispensable for the purposes of high-quality medicine. To offer you, at any time, the best available ways of diagnostics and therapy, I am collaborating only with nationally approved specialists in all fields. Fortunately, Munich provides access to many globally famous specialists in all medical specialities.
By affiliation to the Faculty of Medicine of the German élite University, LMU Munich, I can access a sound network of approved top specialists if their involvement is beneficial for the case in question. Undesirable side effects, such as double examinations, are excluded by a systematc evaluation of the medical cooperation with the specialists who recommended. Short-term appointments are always guaranteed to you. If a transfer to another specialist should be necessary, I will always remain your background medical advisor, coordinating the further medical steps, to make sure that you will enjoy the best possible success.
Yours,
Professor Dietmar Daichendt M.D., Ph.D., M.D.O. (DGCO)