The Practice Clinic at the Isar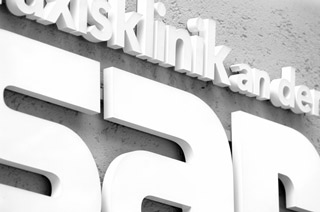 My clinic is an approved 'Practice clinic', meaning that it has partially stationary services – e. g., of pain therapy – may be offered which require that you will, stay with us for several hours under medical observation. We will take care of your medical, physical and mental well-being during your whole stay in our clinic.
My practice is accessible for everyone, whether healthy or ill. My sound, comprehensive education and several specialisations enable me to be your ready contact for screenings and consultations if you want to spend your life healthily. If you are ill, I will treat you as a classically qualified physician who had also an extensive training in naturopathy and complementary medicine to accompany you on your individual way to quick recovery.
Special Services
Accessible for people with disabilities
Elevator accessible for people with disabilities from the parking garage to the ground floor
Private parking spaces in the underground parking garage
Sanitary installations accessible for people with disabilities
Comfortable atmosphere (as) like in a 5-star hotel
3 minutes away from "Kaefer", delicacies food store and the "Palace" hotel, 5 minutes away from the hotels "Arabella Sheraton Grand Hotel" Bogenhausen, "Vier Jahreszeiten", "Bayerischer Hof". 7 minutes away from "Mandarian Oriental" Hotel.
Just below the "Friedensengel" (The Angel of Peace monument), directly at the Isar, in the neighborhood of Lehel (Subway line U4 / U5)
My Practice Clinic at the Isar is a private clinic, meaning that I am not a part of the ambulatory healthcare. I consciously decided for establishing a private clinic in 2002 in order to devote myself to the healthcare provided to a patient-centered care,that enables me to find individual solutions for my patients. My credo is that my patients should always feel that my team and I are fully aware of our responsibility derived from the trust they put in me when they ask for my medical opinion.
In this context, please allow me to refer you to my Hippocratic Oath and my Vow of Private Doctors.
Yours,
Professor Dietmar Daichendt M.D., Ph.D. M.D.O. (DGCO)